Please enable JavaScript for optimal experience and language support!
Asylum center Steinhausen | STEINHAUSEN (CH) | 2020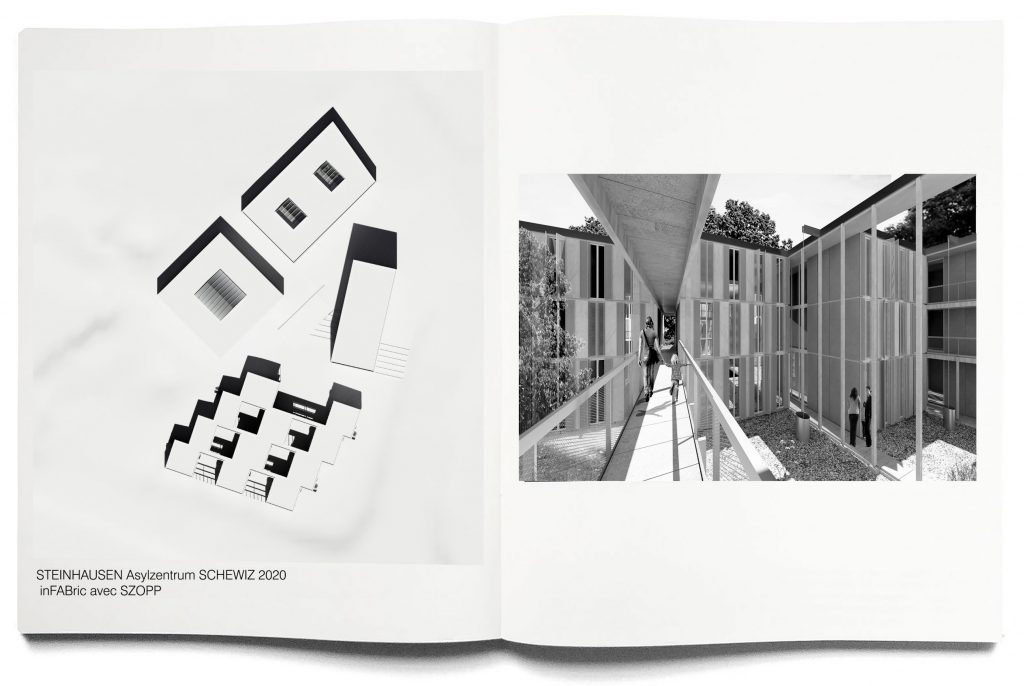 Ersatzneubau Asylzentrum für Auffangflüchtlinge
STEINHAUSEN, Schweiz 2020
Generalplanerwettbewerb  2020
| | |
| --- | --- |
| BAUHERR: | Kanton ZUG |
| ARCHITEKT: | inFABric / S Zopp |
| PROGRAMM: | Asylzentrum  150 Betten |
| FLÄCHE : | 2500m² |
| TEAM: | Anita BARTHELEMY PEBOECK | Fabien BARTHELEMY |Stefan ZOPP | Paul-Antoine BARBE | |
STÄDTEBAULICHE SETZUNG / ADRESSBILDUNG
Das durch die Strassen definierte dreieckige Grundstück bildet den Abschluss des bebauten
Gebietes gegenüber der Freifläche zur Autobahn hin. Das drei neu gesetzte Volum schliessen
die Bebauungsstruktur indem die Bauten den Strassenlinien folgen.
ARCHITEKTONISCHES KONZEPT / MATERIALISIERUNG / TRAGWERKSKONZEPT
Das Ankommen - das erst Mal und das täglich - für Asylsuchende und Flüchtlinge soll würdevoll
und korrekt sein. Der Weg führt vom Bahnhof entlang der Zugerstrasse bis an die Wegkreuzung
mit der Albisstrasse. Schon auf der Höhe der Industriestrasse ist der scheibenartige
Büro- resp. Gewerbeneubau - eines der beiden Gebäude, die in einer zweiten Etappe erstellt
werden - ersichtlich als Wegführung zum Grundstück. Entlang von zwei Wegen, welche von
Osten nach Westen - parallel zur Knonauerstrasse - führen, sind die sechs Innenhöfe und elf
«Pavillons» aufgereiht
Construction d'un Centre de refugiés
STEINHAUSEN, Suisse 2020
concours
| | |
| --- | --- |
| MOA: | Kanton ZUG |
| MOE: | inFABric / S.Zopp |
| PROGRAMME: | Centre de refugiés 150 lits |
| SURFACE: | 2500m² |
| TEAM: | Anita BARTHELEMY PEBOECK | Fabien BARTHELEMY |Stefan ZOPP | Paul-Antoine BARBE | |
IMPLANTATION URBAINE / CRÉATION D'UNE ADRESSE
La parcelle triangulaire définie par les rues constitue la limite de la zone bâtie face à l'espace public.
La zone est située en face de l'espace libre de l'autoroute. Les trois nouveaux volumes ferment la structure
la structure du bâtiment en suivant les lignes de la rue.
CONCEPT ARCHITECTURAL / MATÉRIALISATION / CONCEPT DE STRUCTURE PORTEUSE
L'arrivée - la première fois et tous les jours - des requérants d'asile et des réfugiés doit être digne et correcte.
et de manière correcte. Le chemin part de la gare et longe la Zugerstrasse jusqu'au croisement des chemins.
avec l'Albisstrasse. A la hauteur de l'Industriestrasse, on aperçoit déjà le bâtiment en forme de disque.
bureau ou de commerce - l'un des deux bâtiments qui seront construits au cours de la deuxième étape
est visible en tant que chemin d'accès au terrain. Le long de deux chemins qui vont de
d'est en ouest - parallèlement à la Knonauerstrasse - les six cours intérieures et onze "pavillons" sont disposés "Pavillons" sont alignés
Traduit avec www.DeepL.com/Translator (version gratuite)
Construction of a Asylum center for refugees

STEINHAUSEN, Switzerland 202
competition
| | |
| --- | --- |
| CLIENT: | Kanton ZUG |
| ARCHITECT: | inFABric / S.Zopp |
| PROGRAM: | Asylum center 150 beds |
| SURFACE: | 2500m² |
| TEAM: | Anita BARTHELEMY PEBOECK | Fabien BARTHELEMY |Stefan ZOPP | Paul-Antoine BARBE | |
URBAN SETTING / ADDRESS FORMATION
The triangular plot of land defined by the streets forms the end of the built-up area
area opposite the open space towards the highway. The three newly placed volumes close the
the building structure by having the buildings follow the street lines.
ARCHITECTURAL CONCEPT / MATERIALIZATION / STRUCTURAL CONCEPT
The arrival - the first time and every day - for asylum seekers and refugees should be dignified and correct.
and correct. The path leads from the train station along Zugerstrasse to the intersection with Albisstrasse.
with Albisstrasse. Already at the height of the Industriestrasse the disc-like
office and commercial building - one of the two buildings that will be erected in a second stage.
is one of the two buildings to be erected in the second stage - is visible as a path leading to the site. Along two paths, which run from
east to west - parallel to Knonauerstrasse - the six inner courtyards and eleven "pavilions" are lined up.
Warning: count(): Parameter must be an array or an object that implements Countable in /home/.sites/266/site5098250/web/cms/wp-content/themes/infabric.eu/content.php on line 49
Tags: