Please enable JavaScript for optimal experience and language support!
Chalet Serre Chevalier | Briancon | 2020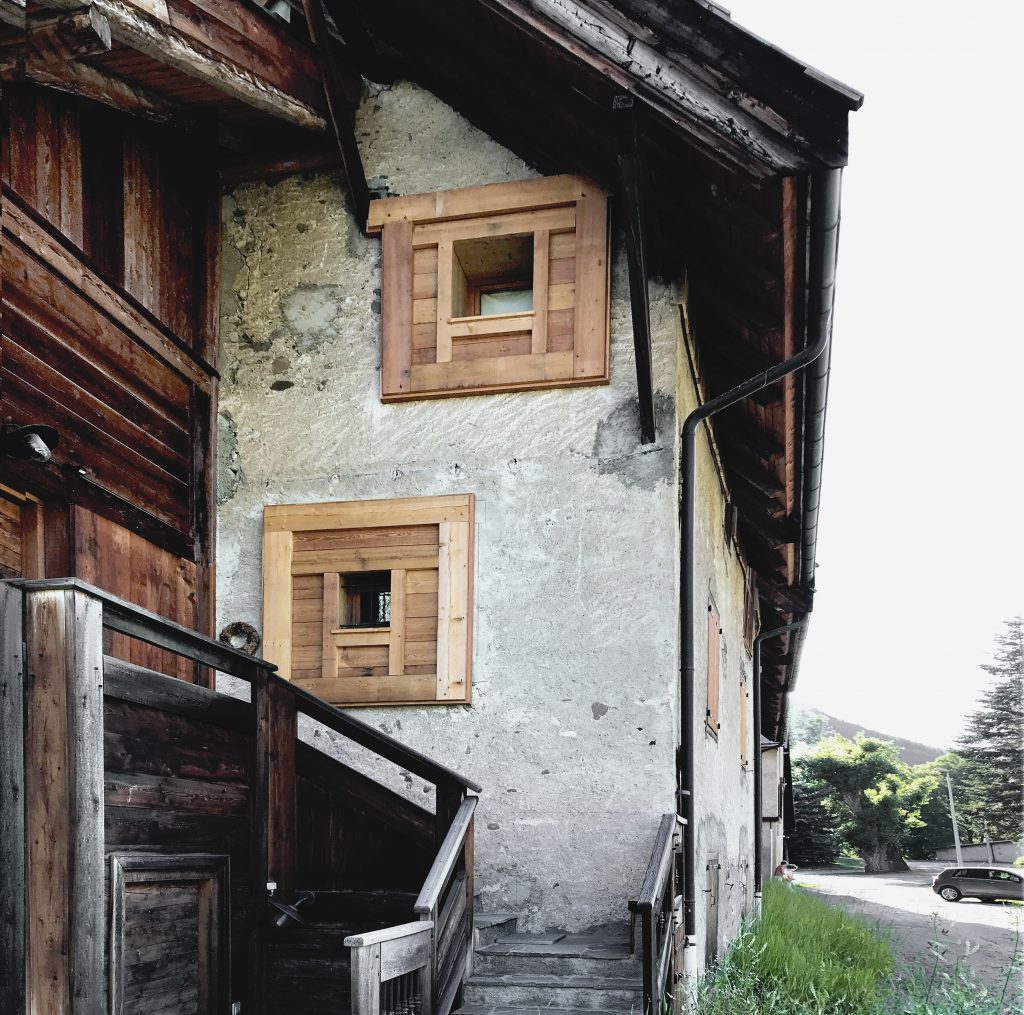 | | |
| --- | --- |
| Bauherr : | Privat |
| Architekt : | inFABric |
| Fläche : | 200 m² |
| Kosten : | 200.000 € |
| Team : | Anita BARTHELEMY PEBOECK | Fabien BARTHELEMY | Timo BILHÖFER |
Renovierung eines Chalets in den französischen Südalpen
In dem bekannten Skigebiet "Serre Chevalier" in den französischen Südalpen soll ein Chalet zur Ferienresidenz einer Familie werden. Das Ziel der Umgestaltung ist eine ansprechende Architektur, sowohl für die Fassade, als auch für die Innenräume.
Die Fassade soll, durch eine Verlängerung der Holzverkleidung, ein neues Gesicht erhalten, dass sich weiterhin an die Bildsprache des klassischen Bergchalets anlehnt, jedoch durch die Schräge eine spannendere und eindrucksvollere Ästhetik erhält.
In den Innenräumen wird durch gezielte Eingriffe der derzeit stark rustikalen Einrichtung einen feineren, gestalteten und luxuriösen Schliff gegeben. Für dieses Projekt von inFABric gezeichnete Möbelstücke fügen sich in die alpine Atmosphäre ein und schaffen es die Gemütlichkeit des Rustikalen und die Reinheit der Architektur zu vereinen.
| | |
| --- | --- |
| MOA : | privée |
| MOE : | inFABric |
| Surface : | 200 m² |
| Couts : | 200.000 € |
| Team : | Anita BARTHELEMY PEBOECK | Fabien BARTHELEMY | Timo BILHÖFER |
Rénovation d'un chalet dans les Alpes du Sud françaises
Dans la célèbre station de ski "Serre Chevalier" dans les Alpes du Sud, un chalet est destiné à devenir la résidence de vacances d'une famille. L'objectif de la rénovation est une architecture attrayante, tant pour la façade que pour l'intérieur.
Un nouveau visage sera donné à la façade par l'extension du revêtement en bois, qui continuera à s'inspirer du langage pictural du chalet de montagne classique, mais qui, de par son biais, lui conférera une esthétique plus exprimée et impressionnante.
L'intérieur reçoit une touche plus soignée, design et luxueuse grâce à des interventions ciblées dans l'ameublement actuellement rustique. Pour ce projet, les meubles conçus par inFABric s'intègrent dans l'atmosphère alpine et parviennent à combiner le confort de la rusticité avec la pureté de l'architecture.
| | |
| --- | --- |
| Client : | private |
| Architect : | inFABric |
| Surface : | 200 m² |
| Costs : | 200.000€ |
| Team : | Anita BARTHELEMY PEBOECK | Fabien BARTHELEMY | Timo BILHÖFER |
Renovation of a chalet in the French Southern Alps
In the famous ski resort "Serre Chevalier" in the French Southern Alps, a chalet is to become the holiday residence of a family. The aim of the redesign is an attractive architecture, both for the facade and for the interiors.
The facade is to be given a new face by extending the wooden cladding, which will continue to be based on the pictorial language of the classic mountain chalet, but will be given a more exciting and impressive aesthetic by the use of the slant.
The interior is given a finer, designed and luxurious touch through targeted interventions in the currently rustic furnishings. For this project, furniture designed by inFABric blends into the alpine atmosphere and manages to combine the cosiness of the rustic with the purity of the designed.
ähnliche Projekte
projets liés
related projects
Tags: apartment architecture france furniture housing inFABric interior interior design interiordesign private renovation