Please enable JavaScript for optimal experience and language support!
Mobile Bar | Oberkirch | 2017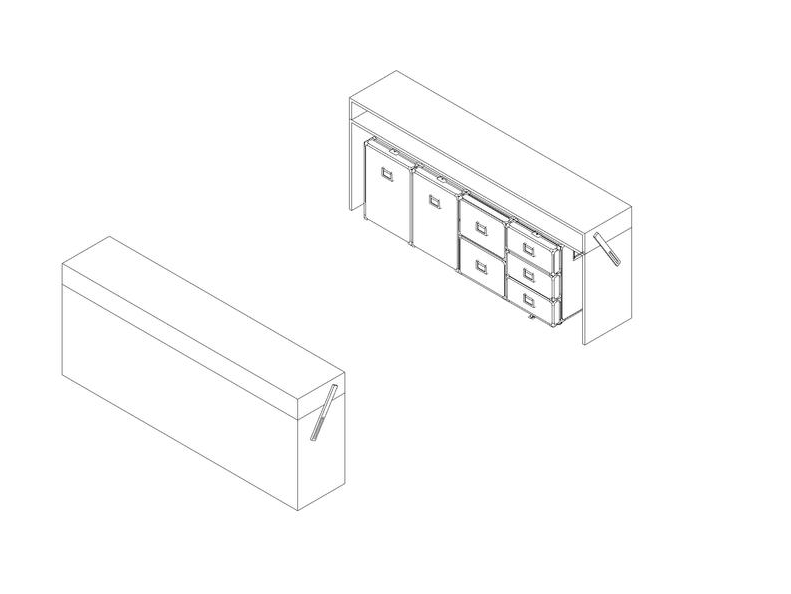 MOBILE BAR
für den Wintergarten und Festsaal des Hotel Hirschen in Oberkirch (CH).
Das Element lässt sich, inspiriert vom Mechanismus einer Werkzeugkiste, öffnen, um als Buffet zu fungieren. Im halboffenen Zustand entsteht eine zusätzliche Zubereitungsfläche. Im unteren Teil der Bar lassen sich Fly-Cases anbringen, die als Module weitere Funktionen integrieren können, beispielsweise Geschirrspüler, Kühlschränke, Geschirrregale etc.
Zwei Elemente lassen sich verbinden, um eine größere Buffetfläche zu erhalten. Auf die selbe Weise lassen sich die Barelemente auch Platzsparend aufbewahren.
TEAM : Anita BARTHELEMY PEBOECK | Kerttu LUNDELL
BAR MOBILE  
pour le jardin d' hiver et la salle des fetes de l'hôtel Hirschen à Oberkirch (CH).
Inspiré du mécanisme d'une boîte à outils, l'élément peut être ouvert pour servir de buffet. À l'état semi-ouvert une zone de préparation supplémentaire est crée. Dans la partie inférieure de la barre, il est possible de fixer des fly-cases pouvant intégrer d'autres modules, tels que des lave-vaisselle, des réfrigérateurs, des rangements à vaisselle, etc.
Deux éléments peuvent être combinés pour créer un plus grand buffet. De la même manière, les éléments de bar peuvent également être rangés tout en économisant de l'espace.
TEAM : Anita BARTHELEMY PEBOECK | Kerttu LUNDELL
MOBILE  BAR
for the Winter Garden and ballroom of the Hotel Hirschen in Oberkirch (CH).
Inspired by the mechanism of a tool box, the element can be opened to serve as a buffet. In the semi-open state it creates an additional preparation area. In the lower part of the bar fly cases can be attached, which can integrate further modules, for example dishwashers, refrigerators, dish racks etc.
Two elements can be combined to create a larger buffet space. In the same way, the bar elements can also be put away while saving space.
TEAM : Anita BARTHELEMY PEBOECK | Kerttu LUNDELL
ähnliche Projekte
projets liés
related projects
Tags: decoration design furniture hotel interior oberkirch switzerland