Please enable JavaScript for optimal experience and language support!
This Website uses Cookies to save your preferred language. By choosing a language you accept the use of those.
BRIOCHE PAVILLON | ZÜRICH | 2021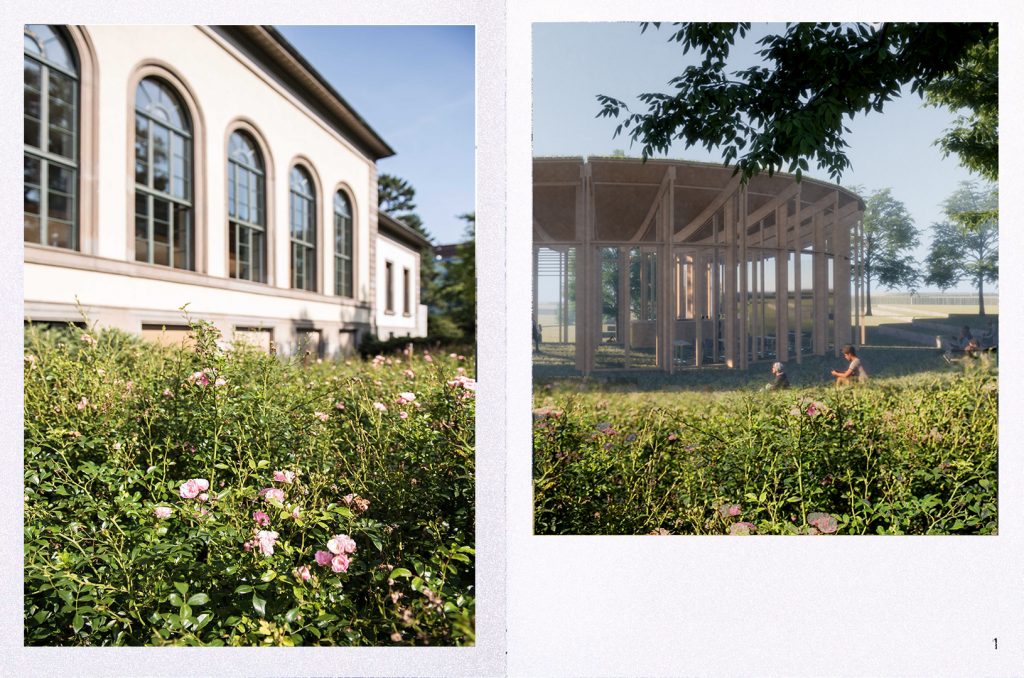 | | |
| --- | --- |
| MOA: |  Zürich Stadt |
| MOE: | inFABric / Lucy.D Designstudio |
| PROGRAMME: | Restaurant | Bar |
| SURFACE: | 150m² |
| TEAM: | Anita BARTHELEMY PEBOECK | Fabien BARTHELEMY |Karin SANTORSO | BARBARA AMBROSZ | |
"BRIOCHE ZÜRICH SPRICHT ALLE SINNE AN.
DER PAVILLON VISUALISIERT SICH WIE EIN ECHO IN EINER OFFENEN ARCHITEKTONISCHEN GESTE UND ÜBERZEUGT MIT EINER GESAMTHEITLICH GEDACHTEN NACHHALTIGKEIT ALLER DETAILS."
In die Natur zu blicken schafft Erholung für den Geist und das Auge. Schon die Positionierung des Pavillon "Brioche" mit der zur Strasse geneigten begrünten Dachschale und der fliessende Übergang vom urbanen Raum in die Natur, erzeugt dieses Gefühl. Der Brioche ist ein freistehender, transluzenter und sich öffnender Pavillon, dessen Grundriss sich aus der Kreisform spiralförmig entfaltet und als Echo in die Umgebungsarchitektur ausbreitet.
Hier entsteht ein Stück "Dorf", das der urbanen Vitalität entgegensteht und damit einen signifikanten Ruhepol und Treffpunkt am Rande des neuen Universitätsviertels bildet. Die Inspiration vom klassischen Pavillon mit Kuppel wird in diesem Entwurf umgedreht und die Kuppel wird zur Schale, die die Natur auffängt und durch filigrane Stützen getragen wird. Die durchscheinende Architektur und homogene Ausbildung des Bodenbelags lässt die Übergänge von Aussenraum zum Innenraum verschwimmen.
| | |
| --- | --- |
| MOA: |  Ville de Zürich |
| MOE: | inFABric / Lucy.D Designstudio |
| PROGRAMME: | Bar - Restaurant |
| SURFACE: | 150m² |
| TEAM: | Anita BARTHELEMY PEBOECK | Fabien BARTHELEMY |Karin SANTORSO | BARBARA AMBROSZ | |
Regarder la nature permet de détendre l'esprit et les yeux. L'emplacement du pavillon "Brioche", avec son toit vert incliné vers la rue et la transition fluide entre l'espace urbain et la nature, crée déjà ce sentiment. La Brioche est un pavillon autonome, translucide et ouvert, dont le plan au sol se déploie en spirale à partir de la forme circulaire et se répand en écho dans l'architecture environnante.
Ici, on crée un morceau de "village" qui s'oppose à la vitalité urbaine zurichoise, créant un important havre de calme et un lieu de rencontre en bordure du nouveau quartier universitaire. L'inspiration du pavillon classique avec une coupole est inversée dans ce design et la coupole devient une coquille qui attrape la nature et est soutenue par des supports filigranes. L'architecture translucide et la formation homogène du revêtement de sol brouillent les transitions entre l'espace extérieur et intérieur.
| | |
| --- | --- |
| MOA: | Zurich city |
| MOE: | inFABric / Lucy.D Designstudio |
| PROGRAMME: | PAVILLON Restaurant, BAR |
| SURFACE: | 140m² |
| TEAM: | Anita BARTHELEMY PEBOECK | Fabien BARTHELEMY |Karin SANTORSO | BARBARA AMBROSZ | |
With its green roof sloping towards the street and the flowing transition from urban space into nature the positioning of the pavilion creates this feeling looking into the nature,  creatnig relaxation for the mind and the eye. The Brioche is a free-standing, translucent and opening pavilion, and opening pavilion, whose ground plan unfolds in a spiral from the circular form and echoes the surrounding architecture.
A piece of "village" is created here, which stands in contrast to the urban vitality and thus creates a significant resting place and meeting point on the edge of the new university district. The inspiration of the classical pavilion with a dome is inverted in this design and the dome becomes a shell that catches the nature and is supported by filigree columns. The translucent architecture and homogeneous formation of the flooring blurs the transitions from exterior to interior space.
Tags: