Please enable JavaScript for optimal experience and language support!
Cognacq-jay | Paris | 2020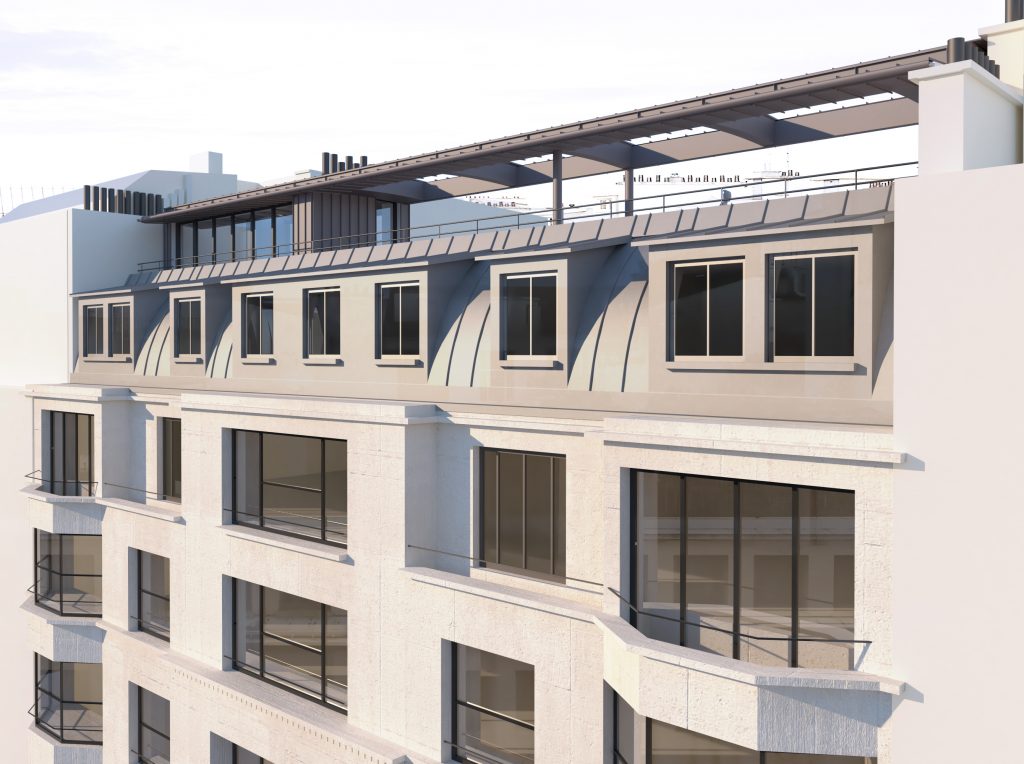 Erweiterung Wohnung rue Cognacq-Jay
Paris, Frankreich 2020 - 2021
privater Auftrag
| | |
| --- | --- |
| BAUHERR: | Privat |
| ARCHITEKT: | inFABric / NG architectures |
| PROGRAMM: | Wintergarten terrassengestaltung |
| FLÄCHE : | 150m² |
| TEAM: | Anita BARTHELEMY PEBOECK | Fabien BARTHELEMY |Eric NESPOULOUS | Franck VINSOT | |
Extension appartement rue Cognacq-Jay
Paris, France 2020 - 2021
commande privée
| | |
| --- | --- |
| MOA: | privé |
| MOE: | inFABric / NG architectures |
| PROGRAMME: | jardin d'hiver, aménagement terrasse |
| SURFACE: | 150m² |
| TEAM: | Anita BARTHELEMY PEBOECK | Fabien BARTHELEMY |Eric NESPOULOUS | Franck VINSOT | |
L'ensemble de la terrasse est recouvert d'une pergola, de manière à conserver la symétrie de la composition de l'immeuble de 1930 selon un geste homogène sur toute la largeur de la façade.
La partie habitable ne concerne qu'un quart de la surface de la toiture. Elle se glisse comme un volume vitré transparent sous la pergola et sert de petite pièce à vivre, bureau, jardin d'hiver, stockage de plantes en hiver.
appartement extension rue Cognacq-Jay
Paris, France 2020 - 2021
private Order
| | |
| --- | --- |
| CLIENT: | private |
| ARCHITECT: | inFABric / NG architectures |
| PROGRAMME: | Winter garden |
| SURFACE: | 150m² |
| TEAM: | Anita BARTHELEMY PEBOECK | Fabien BARTHELEMY |Eric NESPOULOUS | Franck VINSOT | |
The entire terrace is covered with a pergola-roof, in oder to preserve the symmetry of the 1930s building's composition in a homogeneous gesture across the entire width of the façade.
The living area takes place on a quarter of the roof surface. It slides like a transparent glass volume under the pergola and serves as a small living room, office, winter garden, storage for plants in winter.
ähnliche Projekte
projets liés
related projects
Tags: apartment architecture design extension france housing inFABric paris private renovation terrasse